Support to great careers and successful people
COACHING CULTURE AS AN OPPORTUNITY FOR PERSONAL DEVELOPMENT
She has always been an excellent student, committed, hardworking and long-sighted. She has a Master's degree in electrical engineering, she has had a very successful career in top management positions in several domestic and foreign companies, and upon completing NLP training she made some important life decisions. She then finished education at the Erikson Institute and boldly stepped out of the corporate world and into the world of coaching, where she is successfully working with leaders and business people. Mirjana Gomilanovic is the owner of the ''One2Grow'' agency and she says that hiring a personal business coach isn't something new for ambitious people.
-People often ask me whether I have my own coach, and I honestly admit that I do, says Mirjana Gomilanović. – Each person sometimes needs to confront their fears, beliefs, limits, and a coach is there to help people understand personal values, motifs, why some decisions are important to them, why and what they are afraid of.  With a help from a coach it is much simpler to look at the things we deem significant from a different perspective and make important decisions.


Those who rank high in the business world are often lonely and filled with fears. They are often faced with many decisions, decisions which will affect the lives of other people, something that isn't always simple and easy.
-Those people have no one to open up to, no one to share their thoughts with, say that they don't have the answer for something and that they fear something. In these instances I assume the role of their fan with who they can discuss everything.
How do the meetings look like?
Most of foreign companies bring this coaching culture when they come to our country. The executives and people at high positions have known about it for a long time, and abroad it is quite normal for one to get a personal coach together with the position, company car, phone and office, with the purpose of understanding that that represents a chance for personal development.
-People who want to avoid getting lost in a pile of problems and obstacles are usually the ones who hire a coach. In the beginning and upon my first meeting with them, it is important for me to listen to what they believe in, what is important to them, and what are their interests. Even though people have this image of leaders as fearless people, reality has shown that this is not the case – reveals Mirjana Gomilanović.
There are those who bring their emotional burden from home to their work. Mirjana Gomilanovic stresses that we mustn't neglect a single segment of our lives and that we should always look at ourselves as something whole, but that it is also desirable  and quite possible not to bring our private issues to workplace or vice versa.
-When people realize from where their problem originates we have already made the first step towards a solution. With a coach's assistance it is easier to find mechanisms which will help us put aside our personal issues when we come to work, or learn how to deal with things we have no control over. Coaching doesn't deal with the past but rather the future and how something can be achieved from a present moment.
Who needs a coach?
You can know if you are a candidate for a coach right after you answer a question ''Do I believe in this''? Anyone can try and hire a coach out of curiosity but Mirjana Golimanovic says that this already represents a bad start.
-It is most difficult and complicated to work with clients who simply wish to try out and go through coaching. Those who have strong emotions towards themselves and this skill, people who are willing to dig deeper are the best candidates for this. People who want to find out how they can solve their problems and who believe that this can be done and that they are entitled to a solution are those who most often call me.
Job termination as a goal
It is every coach's dream to be fired – says  Mirjana Gomilanović with a smile on her face.
-It is great when your client tells you that you are no longer needed. A thing which often occurs is that clients create this dependency on their coach, which is the coach's mistake and most certainly doesn't represent the aim of coaching. Coach is there to showcase the ideal picture and the best possible solutions. Professionals motivate us to find the best tools in order to reach our desired goals, manage to find best options, and every big plan represents a marathon.
Mirjana Gomilanović recently celebrated her agency's sixth birthday, which now offers services to numerous clients.
-I am proud of all those small acts of support during their very strong careers and the coaching chemistry which is always something desirable. I have recently completed coaching sessions with a client I had meetings with about a dozen times for the length of three months. When we first met he was a rigid and guarded man, harsh on himself and never completely satisfied with his accomplishments. This was the same way in which he led and treated his team. When we reached the topic of how everything we do affects our private life, our relationship with our wife and children, he started to change on his own, and people at his company started smiling. All of them even went to have beer after work. That man has awakened his inner self, he remembered some of his passions from college days, took a big breath of life and he stopped being a machine for making results but rather someone who enjoys life. Coach is someone who has responsibility towards clients; the coach doesn't help with everything. I don't tell my clients how to do their job but rather how to use their experience and knowledge to find out what needs to be done. A coach often asks questions but doesn't provide solutions. A coach must have a completely neutral stance even when he or she knows a way out, because just because a certain solutions is best for me, doesn't necessarily mean that it is best for someone else. Above all else, I understand my clients; I encourage them and help them guide their boat towards their lighthouse. They will realize where they wish to arrive with the help of a coach.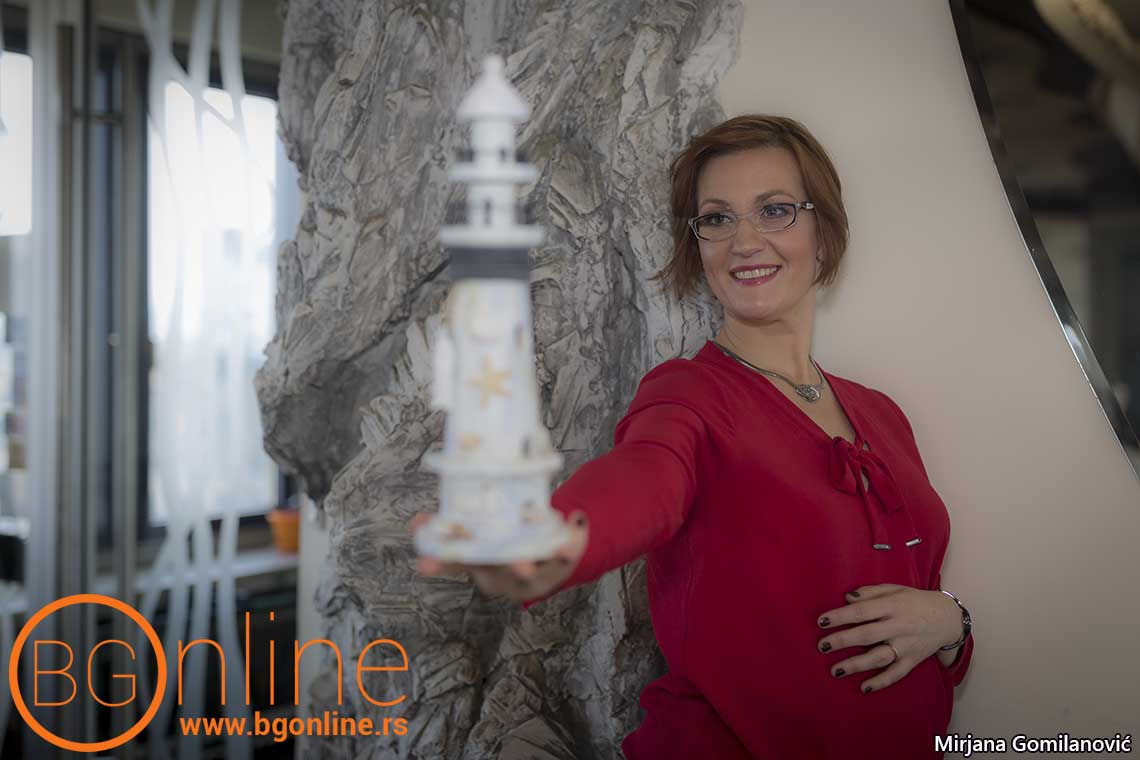 Everybody has their own lighthouse
''The lighthouse within me'' is a book written by Mirjana Gomilanović which consists of short stories about a coaching approach to life.
-We can all sometimes be our own coach and get answers to the questions of what we really want, why something is important to us, where something might take us and what our options are-says Mirjana, a ''mama coach'' who left a successful corporate career 6 years ago and ventured into the exciting and unknown waters of freelancing. As she has pointed out, this has never been a source of grief and this step was not without a big reason.
-I wanted to have a perfect balance between personal and business life. I have three children and finding a balance between personal and business life is something very important for me. I knew that I would be a more committed mother if I wasn't restricted by working hours. The unreserved love I feel for my children and husband, as well as the support I receive from my husband represent something dearest to me. He is my rock, support, critic, adviser and the wind in my sails ever since I sailed towards my lighthouse.
Branka Gajić
Foto: Dario Konstantinović/ DAK Foto
Mirjana Gomilanovic, PCC, Executive & Leadership Coach | ICF Registered Mentor Coach | Certified consultant & trainer for organizational change is a professional, certified coach in the area of leader's development and organizational growth, author of the book "The lighthouse within me " as well as the executive director of the "One2grow – Leadership Coaching" agency.
Mirjana believes that we were all born to be happy. This is way her work can be viewed as a way of maximizing strengths and knowledge of a individual so that this person, organization and the entire surroundings could benefit from them. She specialized for the development of leaders and their competences, managing changes, defining and implementing company's mission, value and vision as well as creating corporate culture through individual and team coaching.
She uses her own experiences from working for more than ten years at positions of Sales and Marketing Director in domestic and foreign companies (IBM, Siemens, Telekom Srbija and Orion Telekom).
Professionalism and dedications have led to her receiving accreditation from world famous consultant companies: Professional Certified Coach and Registered Coach Mentor with the  World Coach Association (PCC ICF), Erickson coach, PCM coach, Persona Global consultant; SDI consultant; Points of You Trainer and Coach; Oxford Leadership Academy fellow, NLP BP and many other.
Her formal education is one of a Master of Science in Electrical Engineering. She is happily married and she has three children.