Crossroads and temptations in marriage
HOW TO MAKE FAMILY OUR SAFE HARBOR AGAIN? (Gordana Savic)
On average every fourth marriage in Serbia results in divorce, although the information from two years ago which states that the percentage of divorced marriages dropped by 6.8% can be encouraging. In the past, we wouldn't abandon marriage on a whim, and this matrimony enjoyed great respect, and was put at the pedestal of life's values. Unfortunately, in the 21st century there are more and more of those who turn their backs on their marital vows.
Gordana and Nebojsa Savic founded the association for the preservation and development of family "Marriage and family". They have been married for more than two decades and they have two children. This couple provides marriage counseling, promotes the importance of a healthy family life, and gives help to those that have been affected by family falling apart. They are also the authors of a pre-marital educational program called: "Help, I am getting married!" intended for people who are getting ready for marriage.

The price of freedom
Gordana Savic is a certified coach of the Equip leader program (John Maxwell), and has been providing marriage counseling for ten years, and has worked on prevention and education of married couples above all.
-Men are those who fear marriage more, and in the meantime we have lost the true father figure -says Gordana. Father used to be a warrior and a lover at the same time, the one who initiates things, an example of how a family should be loved and taken care of. The roles of men and women were clear and well known.
In the 21st century, in times of a fast-paced life and transition we have lost this traditional type of marriage, and its modern version is slowly destroying all that once gave marriage a very important value in every person's life.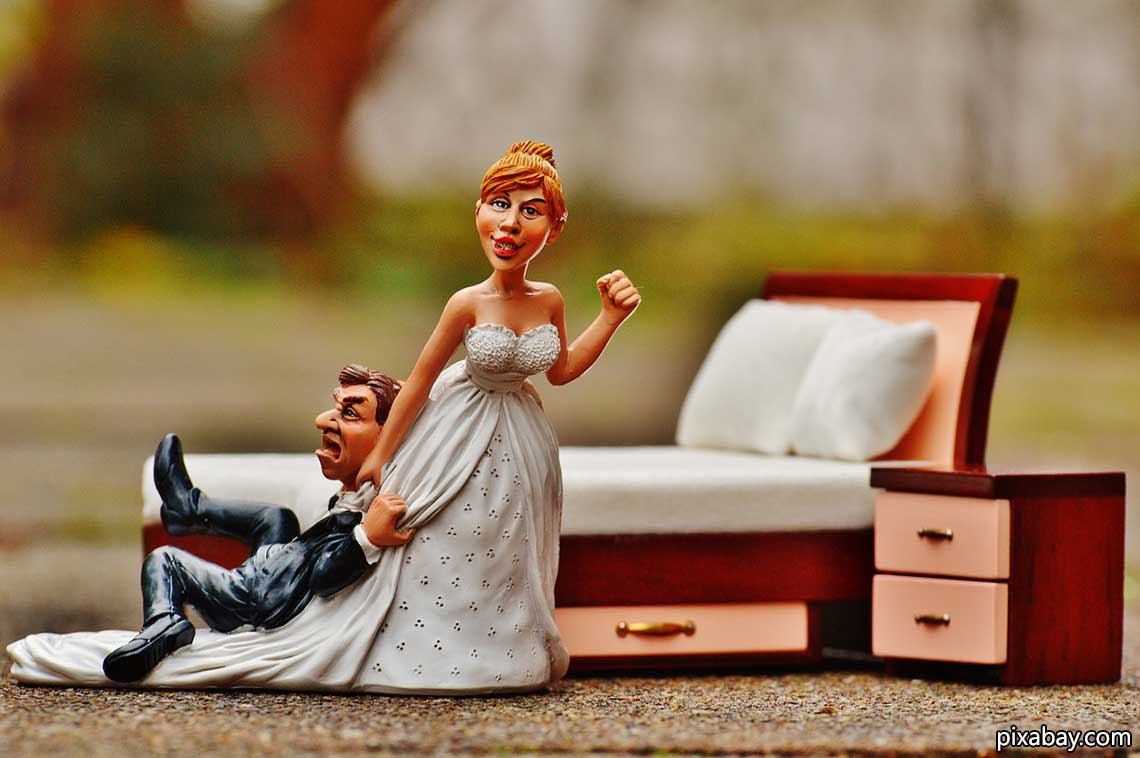 -Now, some other values are deemed important and people are increasingly more selfish and self-centered-says Gordana Savic. The traditional family implied that WE fight together; we raise children together, while today everybody wants freedom more than anything else. Freedom is something that should be approached with care because a young married couple want everything for themselves; their friends, their car and even their apartment. Freedom often becomes a problem when we don't know where the limit is.
Lack of intimacy
Gordana says that one of the worst divisions in marriage is when spouses divide their obligations and tasks in half.
– That is a decision which leads to an unsuccessful marriage because in that situation one side will always be giving more and one side will have a sense of giving less. This is something that can never be precisely agreed upon in this way. The thing that contributes to spouses falling apart is the lack of intimacy which should serve to remind us that it is US who are in all of this. Modern families are characterized by increasingly more superficial relations with little honesty , partners who shut themselves off and it can all lead to detachment and new problems.
According to our interlocutor, marriage should represent another joy that life brings, and everyone should enter this community with the faith that their love story will be successful and that it has a future. But, there are also factors that lead to disappointment.
-Joy is lost if we idealize the person next to us, or we recklessly want to change them. We should work on ourselves and try to change. Unity is the thing that should be dominant in marriage, and not the competitive spirit.
Where is love and where is respect?
The situation in which a woman earns more than her husband can sometimes be quite frustrating for the stronger sex, and can even lead to the family falling apart.
-Then the man, affected by the fear that he is not worthy enough, seeks a way to earn additional money, and this rivalry, that can be lethal to marriage, occurs – Gordana Savic mentions.
– Communication is the key, talking about everything. Agreement makes a house strong, and life without respect is not life.
There are couples that never split up despite having great misunderstandings and dissatisfactions. Gordana says that she never recommends staying in "a hell of a marriage" and explains why some people still choose to live under those circumstances.
–Many stay in such marriages for their children, i.e. they have convinced themselves that it is better for their children, and there are those that feel too ashamed of the people in their surroundings and their very selves to take that step.  The quality of life is important and staying in a hell caused by a bad and irreparable marriage is something that I advise no one to do. All the bad in marriage starts with the lack of communication and the loss of intimacy. Women often complain that they don't get their husband's love, and men say that their wife doesn't respect them.
The loss of intimacy is also a big problem and the enemy of every marriage.
-Men have problems with pornography, and it is easier for them to find pleasure that way. In all that women are neglected and feel desperate, and they end up thinking that their husbands don't find them attractive or beautiful. They don't talk about intimacy, and it most definitely reflects the quality of life and the state in which the marriage is. There are couples that are married and don't have sex for months which is very bad. It is very important to have good sexual life, and the key step towards that is talking about it. Unity in marriage can overcome all losses and problems.

The price of an expensive life
When a person is loved and accepted, their family is their safe harbor, Gordana Savic points out and adds that this fast pace of life has led to children often being left to deal on their own, and to everything that happens on the internet.
-An expensive life that requires a lot of money has been forced onto people, so they spend more and more time at work. Children do sports, play the piano, engage in other various activities and parents have become megalomaniacs. We strive towards great things but life is actually all about small things. Time should be spent together, we should at least have dinner together with our family during which we can ask each other questions like "How was your day?", and "How can I help you?" Children should see that their parents understand them. We keep raising the standard for our children, while family is so to say whipped during the race for some less important things. We should slow down and be grateful for the things that we have, grateful for our health, our children and the fact that we have each other. None of it should be taken for granted.
"Marriage week", which is organized by the "Marriage and family" association will be held from 7 to 14 February.
-In that week we will celebrate family in a positive way, discuss about the things that are good, and the benefits of marriage, all with the goal of getting couples animated and making them turn to each other. Everyone can do something good for their marriage. We wish to move people and make them do something nice for each other, write a letter, tell each other "I love you", look each other in the same way as they did at the beginning of their marriage, renew their vows, move in a positive direction, or go back to each other. Marriage has unfortunately been reduced to people dealing with their children, and not their relations. We should focus on each other! We are a nation that is constantly criticizing someone or something. Let us praise marriage!
"Marriage week" is a part of an international initiative "Marriage Week International" that is held every year in more than 26 countries, so that from 7 to 14 February a series of events that celebrate marriage, motivate and empower couples in their relationship and commitment to each other, can be held.
Branka Gajić